As some of you are aware, I sell my wares on ETSY under the shop name Josh & Teo. This past summer, I entered into discussions with a buyer in Hong Kong who was opening up an online store for high end gifts. He sent me the proposal for Gift Hampers.com/HK and it sounded exciting. So, I started sewing...

I shipped out these:

And then I waited.... and waited for the online store to open. It is now open and Hong Kong customers may purchase baby gift baskets which include my Sophie Leashes.
Here's how they packaged up their gift hampers
via GiftHampers.com/HK
Another sample...
via GiftHampers.com/HK
Click
here
to see the various "boy" and "girl" baskets from Gift Hampers.com.
In other news, I am participating in a blog series called "Knock it Off" on a blog I follow called
Elegance and Elephants
. I was thrilled when Heidi approached me to participate in her blog series. She sews the cutest things for her little boy and then writes about it. I highly recommend that you take a peek at her lovely blog, even if you don't sew.
My post will be up on Friday November 16 so don't forget to check it out!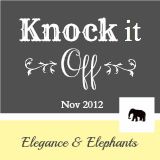 Happy Sewing!