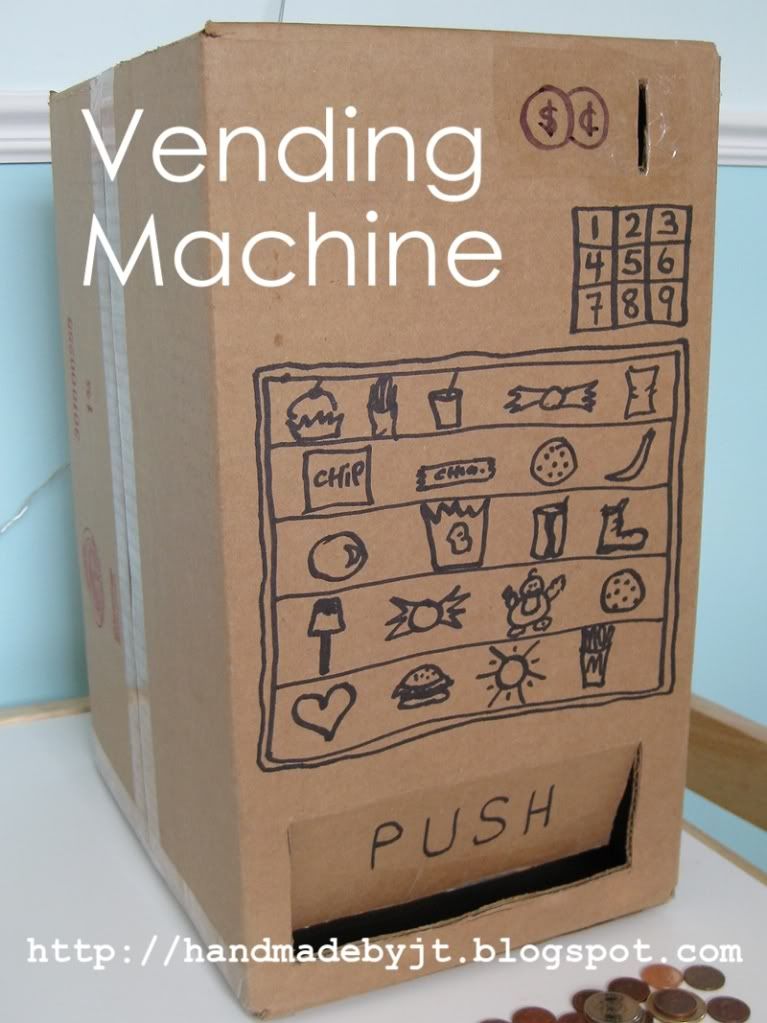 Have you ever tried explaining to your children why it's so much better to buy something from the grocery store vs vending machine? "You could buy 5 of these if we bought it from the grocery store!" Doesn't matter what you say, there's something about putting a coin in a tiny slot, picking your item, and having that item fall down into your waiting hands.
Today we are making a vending machine out of cardboard. This project was made by hubby with Joshie's input.
Skill level: Easy!
Time: 15 minutes
Tools Required: Diaper box, Clear Tape, Marker, X-acto knife, Imagination
This is one of the easiest projects to do but it is great for creative play.
Here are the steps but feel free to improvise:
Use a cardboard box that doesn't have text printed on it. I picked this one up at the grocery store. It used to hold pasta. You could also use a diaper box, cut it open, flip it around, and re-tape it.
Use an X-Acto knife to design a) the coin slot b) the swinging door c) the coin return
Hubby inserted a tube inside the box so that the coin would roll down from the coin slot and exit from the back of the box. He put a little flap on the coin return so that coins wouldn't be flying out of the box.
Once you have completed the coin slot, swinging door flap, and coin return, tape the box closed.
Now it's time for some Sharpie fun. You'll need to draw your number pad, as well as the items that are going to be for sale. Notice how we have some items thare are not food? The sun, heart, baby, and boot were Joshie's choices.
You're finished! Now it's time to play and learn at the same time.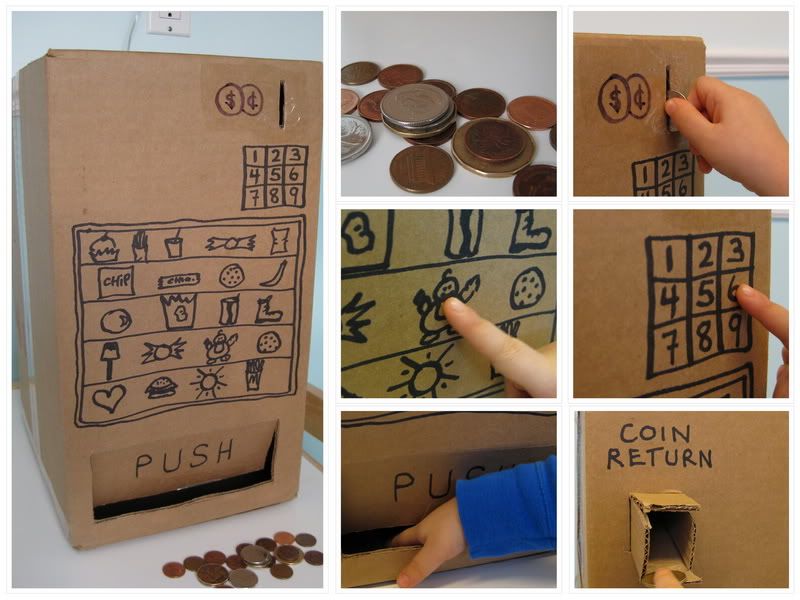 Here's what we taught Joshie with this vending machine:
Number Recognition
Order/Sequencing - i.e. first you put in the coin, then you push the buttons, then you get the food
Sharing
Creativity - Joshie started putting his pretend play food into the swinging door so that he would "get" something once he put his money into the coin slot
Counting - A bag of chips would cost 1 coin, while the boot would cost 2 coins
We get a lot of use out of this box and the kids love it. Thanks hubby!
I hope you enjoyed reading about this craft... come back tomorrow for Day 4 of Cardboard!