Today is my 1 year anniversary for my
ETSY shop
. Wow does time fly by fast!
I can remember putting up 5 items for sale and then jumping for joy when I got my first order. When I got my 100th sale in December, I think I jumped up and down too!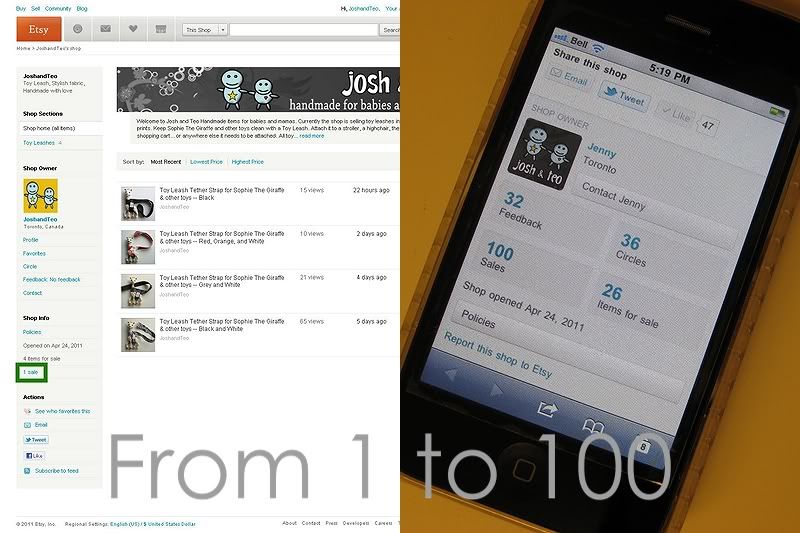 I started selling toy leashes and over time, I began to add new items to my shop: stroller bag, mini wallet, toddler backpack, wrist wallet, and nursing covers. Everything I design has been inspired by my two little ones, tested by myself, friends, and my kids.

Along the way, I learned a lot. I was
featured
in some blogs, been in Chatelaine two times, and was interviewed by a radio station in Calgary (still awaiting the air date). I met some very nice people through ETSY and Blogging. I started a
Facebook page
for fun, got confused by
Twitter
, and got addicted to
Pinterest
.
I started this blog as a way to document my time at home with the boys and it turned into the mish mash that it is today: stuff about the kids, stuff that I make for fun, and stuff I make for my shop.
I have to give kudos to my super awesome hubby. He listens to me go on and on about my shop, designed all my graphics, and is my sounding board. Here are some of the things he designed:
He made me this banner to encourage me to apply for a craft show.
He also designed my product labels
All in all, it's been a lot of fun!
For those of you who are thinking of opening an ETSY shop or currently have one, here are some tips that worked for me:
Create a business plan - even a loosely defined business plan will help keep you on track
Know your audience - Who do you intend to sell to? I make products that appeal to parents who want handmade and unique items that are functional AND stylish.
Pricing - do the math based on your expenses and see what similar items may be selling for in the marketplace. Make sure you know who your competition is. In the handmade market, it's not the big box stores.
Customer service - be on top of your orders and communicate communicate with your customers. If your order is going to be late, tell them.
Create continuity in your brand image. When you sell on ETSY, it's easy to open up a shop but creating and maintaining consistent look for all of your branding is important. This means consistency with your web banner, marketing graphics, facebook/twitter/social media pages, physical packaging, etc.... the list goes on an on.
Know your limitations - I can't work on my shop full time as I have 2 kiddies under 3.5 years old. I could work on my shop during their naptimes but not without burning out myself. I keep a small number of items in my shop (30) instead of shooting for 100. I also have a ton of products I could add to the shop but have chosen to focus on a small few.
Support Team - you can't always do it alone so enlist help. Hubby is my shop "helper" but family helps too by watching my kids once in a while, or by purchasing fabric for me when they are out shopping.
Take care of the business end - not just the crafting end. This means, keep your receipts, track $ going in and $ going out.
Know your SEO - it's inevitable... you need to use words to describe your product in a way that moves you up in search engine results. After all your hard work, you want your SEO words to bring your shop to the first page of a google search, not the 20th page.
Enjoy it - it's hard work but have a good time doing it. This is your chance to get a small taste of running your own business so learn what you can!
Happy Sewing... back tomorrow!